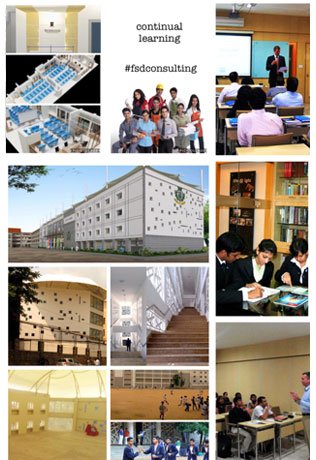 Education Sector
Our firm has been instrumental in spearheading a kinaesthetic approach to learning ,comprehension, ideation and implementation of concepts for varied age groups , addressing contemporary issues with respect to the burgeoning need for new age institutions, who in turn are dealing with the nuances of an evolving economy and its needs. We have dealt with, both, modular as well as campus scale design while fulfilling the needs of our clients and their stake holders
Continual learning is crucial to staying relevant and we  are committed to this cause.
Our work in this  arena spans various aspects of learning and thought leadership :
School level : Our work with a renowned 150 year old institution addressed challenges of exponential growth from being a school with 700 students initially to 3500 students now and in the same campus .
University level : We continue to support the concept to fruition process of a new " liberal education " system which will be a harbinger of change in the way we learn to learn
Bridge learning (pre & post job ) : We have collaborated with our clients to

   

innovate bridge empowerment centers that help graduates be industry relevant
Skill Based learning : We have ably partnered with our clients to design kinaesthetic systems of learning which

 

empower migrant youth with capabilities that help them earn their livelihood with dignity.